HOT

TOPICS

Facebook

Conspiracy

lluminati

GM Food

Camp FEMA
Agenda 21 EXPLAINED
This detailed presentation clearly explains the connection between sustainable development and Agenda 21 as defined by the UN. In depth research shows how Agenda 21 will ultimately compromise your property rights.
May 15h 2013
Agenda 21: Mind Control And Smart Growth
Do you cherish your God-given constitutional right to own property? So do I! UN Agenda 21′s Smart Growth is in full bloom across our nation. In East Tennessee the five county local "Regional " program is called Plan East Tennessee, (Regional Plan for Livable Communities), a plan which will eliminate private property rights in these five counties. Link It is a plan for Smart Growth. Rosa Koire, author of, "Behind the Green Mask," defines Smart Growth on her website,
Marsh 24th 2013
Mystery Of The Georgia Guide Stones And the Depopulation Of The World By The UN Agenda 21 Globalists
Sitting on one of the highest hilltops in Elbert County, Georgia, near the 33rd parallel, stands a huge granite monument. Engraved in eight different languages on the four giant stones that support the common capstone are 10 Guides, or commandments. That monument is alternately referred to as The Georgia Guidestones, or the American Stonehenge. Though relatively unknown to most people, it is an important link to the Occult Hierarchy that dominates the world in which we live, UN Agenda 21 and the Political Elite.
Marsh 5 th 2013
Agenda 21 Is Being Rammed Down The Throats Of Local Communities All Over America
Activist Post
Have you ever heard of Agenda 21? If not, don't feel bad, because most Americans haven't. It is essentially a blueprint for a "sustainable world" that was introduced at the UN Conference on Environment and Development in Rio de Janeiro, Brazil in 1992. Since then, it has been adopted by more than 200 counties and it has been modified and updated at other UN environmental summits.
The philosophy behind Agenda 21 is that our environmental problems are the number one problem that we are facing, and that those problems are being caused by human activity. Therefore, according to Agenda 21, human activity needs to be tightly monitored, regulated and controlled for the greater good. Individual liberties and freedoms must be sacrificed for the good of the planet...
December 25th 2012
UN Agenda 21 - Coming to a Neighborhood near You
Most Americans are unaware that one of the greatest threats to their freedom may be a United Nations program known as Agenda 21. The United Nations Department of Economic and Social Affairs, Division for Sustainable Development created Agenda 21 as a sustainability agenda which is arguably an amalgamation of socialism and extreme environmentalism brushed with anti-American, anti-capitalist overtones.
December 1 th 2012
Agenda 21: The Latest Sleight of Hand Trick by Corporate Elite
When the Corporate Elite tells us we need to be afraid of something, they almost always expect to make some money off our fear.
From the same people who brought us the "Ground Zero Victory Mosque," FEMA concentration camps, and every single George Soros conspiracy theory, comes a brand new hyper-paranoid threat-to-America's-sovereignty that, they say, should scare the hell out of all of us.
It goes by the name of Agenda 21, which just so happens to be the title of Glenn Beck's new dystopic novel.
Billed as, "more frightening than anything Orwell could have envisioned," Beck's Agenda 21 paints a disturbing picture of America following the implementation of the United Nation's Agenda 21, which is actually a real life UN initiative, though not nearly as nefarious as Beck would have us all believe
November 24 th 2012
Media Panic to Control Exposure of Agenda 21 Takeover
Aaron Dykes
Infowars.com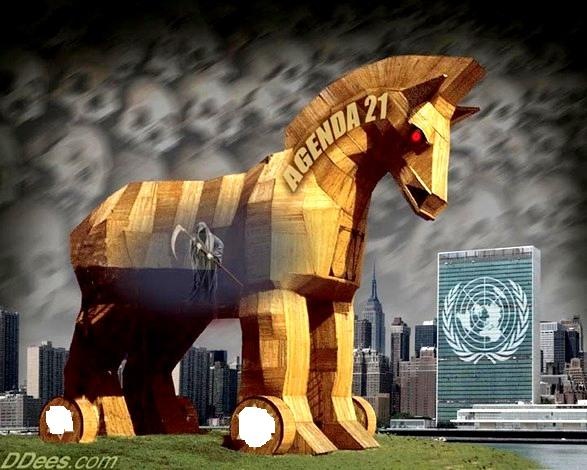 Opponents of Agenda 21′s local implementation in the United States have begun mounting a notable resistance. At state capitals and city councils, activists are showing up to educate and lobby their elected representatives about the implications of this United Nations' plan for sovereignty, property rights and the future development of the country. It has become such a widespread phenomenon that media outlets everywhere are spinning into damage control in effort to ridicule the anti-Agenda 21 movement, hoping that it will go away before the general population understands the issue.
November 18 th 2012
Agenda 21 Declares War On Mankind
By Jurriaan Maessen
In the last couple of years the omnipresent force known as Agenda 21 is meeting with increasing resistance worldwide. With the rise of the alternative media, the flow of decade-long propaganda efforts is finally being hindered. As a result of rocks thrown in the stream- the once steady water flow is now exposing itself at every turn as it's forced to bend and twist its way forward. Ironically, the UN and its affiliate accomplices have themselves to thank for the counter-effort. The internet- as well as some pretty thorough archiving on the part of these transnational bureaucracies- have allowed researchers to withdraw information directly from the lion's den. As a result of this development, we can display a plethora of documents, often written by UN personnel and ideologues, that prove beyond a shadow of a doubt that there is a concerted strategy in place to brainwash (there's no other name for it) the human population of the planet into accepting Agenda 21 and its inherent depopulation proposals.
August 9th 2012
Agenda 21 Makes Debut in San Fran – GPS Trackers in Every Car
My feelings on San Francisco and the people that live there as a whole aren't that positive and the latest news out of "The City" (as the self-important populace likes to call it) makes me even less fond of it. The UN's ridiculous Agenda 21 plan has reared its ugly head in that den of blind, liberal thought. Agenda 21, if you are not familiar is a set of standards for "global sustainability" by the new "global partnership" that governments are to create policy for on their own to achieve, which range from combating poverty and helping emerging countries economically to managing sewage waste. Basically, they want us all to be one big happy family, holding hands and singing kumbiah by the fire.
July 20th 2012
Water Securitization, Agenda 21 and the Right to Life
Activist Post
There is an estimated 366 million, trillion gallons of water on planet Earth. That number appears to be fixed, according to UNESCO's Intergovernmental Council of the International Hydrological Program (HIP). The alarmist threat of man-made climate change states that where and how this water manifests itself in hydraulic flux across our biosphere is questionable.
The HIP are a UN program system devoted to researching and finding natural water resources and managing those resources found. While the UN is well aware that the necessity of water as a vital source for life means the retention of power over all life, they are well into their schemes to develop global governance over all sources of fresh, clean water
July 11th 2012
Agenda 21 – Global Government Takeover Plan
Alex talks with Rosa Koire, a forensic commercial real estate appraiser specializing in eminent domain valuation and an outspoken activist opposed to the United Nations' Agenda 21 and its attempts to attack civilization through so-called Sustainable Development. She is the author of Behind The Green Mask: U.N. Agenda 21, available at the Infowars Store.
July 5th 2012
Agenda 21: How Will It Affect You?
A clean environment is important to us all. We have an obligation to maintain our resources and sustain our environment for future generations. Sustaining our environment has led us down the road to environmentalism. Then a strange thing happened. Environmentalism came to a fork in the road. While the rhetoric took one route, the agenda took another.
June 21th 2012
NASHVILLE, Tenn. (AP) -- A proposal that calls for the rejection of a United Nations agenda on the environment and poverty has passed the Senate.
The resolution, which "recognizes the destructive and insidious nature of United Nations Agenda 21," was approved 19-11 on Tuesday. The House passed the measure 72-23 last month.
The agenda came out of the U.N. Conference on Environment and Development in 1992 following discussions on "sustainable development."
Republicans say the agenda is a veiled attempt to take away property rights.
June 21th 2012
AGENDA 21: CNN Pushes "Car Free" Cities As A Way To Deal With The Foreclosure Crisis
No description available.
February 28th 2012
All Amreicans Need To Know About This!

Dear Fellow Sportsmen...



I'm forwarding to you an email sent to me by a good friend and someone who also enjoys hunting and fishing as much as I do. It contains a link to U.S. House Bill 501, sponsored by U.S. Congressman Ed Markey, which seeks, as a first step, to establish a regional governmental council for "coordinating" and "planning" the decisions affecting the "use" and "sustainable development" of all American coastal areas; including the Great Lakes and Jersey shore. And of course this new "Regional Council" will supersede both in mandate and authority any constitutionally controlled, state run, fish and game commissions
January 22th 2012
Numerous critics condemn the insidious nature of Agenda 21. Usually the arguments are based upon the intrusion of the United Nations to mismanage the planet and reduce people to a sinister petri dish experiment. Their reach and methods used by this octopus that is strangling the globe, include specific actions that force their agenda down the throats of government entities. The recent passage of Article X in New York State illustrates a direct assault on the treasured principle of Home Rule. Connecting the dots and tying the links together forecast a grim reality that is ready to explode into a vicious turf fight.
July 12th 2011
Agenda 21 for lower living standards
Liberty talks about the goals of Agenda 21. In disguise of sustainable development our Western living standards will be lowered. Forget about the future free energy and having a flying car, if you ask the UN. United Nations is after your car and your toilet! This is eco fashism where you and your style of living is seen as a threat for the earth.
July 2th 2011
"No State shall enter into any Treaty, Alliance, or Confederation; grant letters of Marque and Reprisal; coin Money; emit Bills of Credit; make any Thing but gold and silver Coin a Tender in Payment of Debts; pass any Bill of Attainder, ex post facto law, or Law impairing the obligation of Contracts, or grant any Title of Nobility." -Article 1, Section 10, The United States Constitution
That Section of the Constitution prevents membership of states, cities and counties in an organization called International Council of Local Environmental Initiatives (ICLEI)… but I'll bet many readers of this article live in a city, town, or county that belongs to ICLEI because ICLEI has more than 600 active members throughout the United States. Those members are cities, counties, and states, not individuals.
To see if your city, county or state is a member of ICLEI, click here.
If your state is spending your tax dollars to violate Article 1, Section 10 of the Constitution to pay for membership in ICLEI, you need to do something about it. The Constitution says no state should enter into an alliance with a group devoted to supporting international policies unfriendly to America.
June 23th 2011
How your community is implementing AGENDA 21
No description available.
June 22th 2011
ONE BAY AREA: "AGENDA 21", the UN's diabolical plan comes to the San Francisco Bay Area
Agenda 21 is the Master Plan put forth by the United Nations in 1992 and adopted by President Bill Clinton. Agenda 21 is a green initiative with targets cars and people living away from cities who must commute. Their goal is to develop large, congested city centers for people to reside, and provide mass transit for the city dwellers to commute to work. It also targets large parcels of land in the world, including the United States, to be redistricted to "open space land", thereby making it undevelopable.
Agenda 21 is now being adopted in California, specifically in the San Francisco Bay Area, under the name "Plan Bay Area". Plan Bay Area's goal is to develop large congested downtown metro areas, with shops, stores, theaters, and mass high rise housing. They aim to get people out of their private suburban residences and cars, and warehouse them in these large metro areas. These areas will also house California's large immigrant population, including illegal immigrants.
Plan Bay Area had hosted a 'dog and pony' show in April and May of 2011 to showcase their "vision" and to "solicit" public feedback. This is one of those meeting which did not go very well due to a number of suspicious and disgruntled citizens.
June 8th 2011
Fluoride, Aspartame and Agenda 21 *see description*
plz watch the entire movie on google video or on here on youtube(esoteric agenda)- but plz dont buy into the new age religion promoted in the movie - plz
October 31th 2010